Who are Cali Greens?
Cali Greens is Xyfil's primary in-house CBD brand. We specialise in premium-quality CBD products that are sustainably sourced and are based around your everyday needs. You can purchase on caligreens.co.uk.
Our unique range of skincare products, drops and vapes give you flexibility and peace of mind. In a world full of stress and anxiety, we pride ourselves on helping you live life to the fullest by supporting a healthy and balanced lifestyle.
What is CBD?
CBD stands for Cannabidiol, a natural extract of the Hemp plant that is perfectly legal and non-psychoactive. CBD won't get you high in the psychoactive sense, but it can provide many other benefits including pain relief, anti-inflammation and CBD oil has been used as to reduce anxiety and depression in patients (Healthline, 2021).
CBD is different from THC, which is the psychoactive component found in marijuana. People often assume that Cannabis is the same as marijuana, but in reality, only a few plants in the Cannabis family contain THC. At Cali Greens, we extract our CBD from sustainable and legally grown hemp farms in Colorado, USA with no trace of THC.
Cali Greens Products
E-liquids are designed to be vaporised by an e-cigarette device, allowing CBD to be absorbed into your lungs.
Liquid drops are designed to be taken orally, or for best results, placed under your tongue for 2 minutes to increase the absorption rate.
Topical creams are designed for your skin and allow you to target a specific area of your body.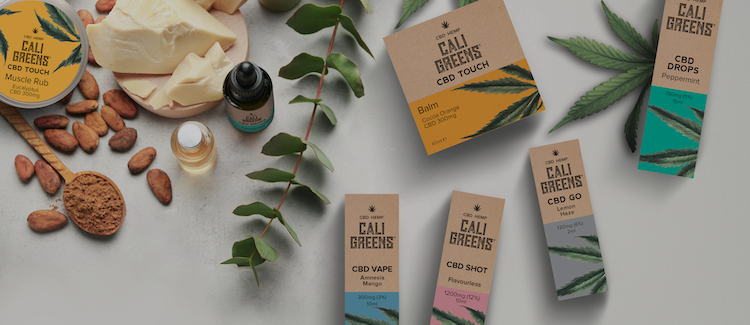 CBD Manufacturing at Xyfil
E-liquids
As a leading CBD manufacturer, our CBD E-liquid products are among the very best you will find on the market. Our products continue to surprise end users with their effectiveness and their superior taste. Generally, TPD E-liquids tend to use standard isolate but we can also offer full-spectrum CBD oil. Our production method allows us to make products at up to 2000mg strength without the need for any additional solvents. We also offer E-liquids with the added benefit of terpenes which helps modulate the impact of CBD as well as the taste profile.
Sub-lingual Drops
Sub-lingual drops are essential in any CBD range. Their main benefits include high bioavailability and universal accessibility – unlike vaping, everyone will feel comfortable and confident in using them. Holding a tincture under the tongue for 2 minutes increases bioavailability to 45%, making drops a useful product in your range.
Creams
Xyfil have developed a range of award-winning topical cream formulations in-house. The highlight is our micellar formula which is non-greasy and is rapidly absorbed into the skin. We offer white-label manufacturing services for body butters, creams, gels and balms similar to the Cali Greens range. Here, you can specify the active ingredients including CBD type and strength, essential oils, vitamins and terpenes.